Inquiry
Drosophila RNAi Service
At CD BioSciences, we are passionate about supporting groundbreaking research in the field of Drosophila genetics. RNA interference (RNAi) has emerged as a powerful tool to investigate gene function and regulation in Drosophila, paving the way for a deeper understanding of biological processes and disease mechanisms. Our Drosophila RNAi Service is designed to empower researchers with the most reliable and efficient RNAi techniques, enabling them to unravel the complexities of gene function in their studies.
How RNAi Works in Drosophila
RNA interference (RNAi) is a powerful genetic mechanism present in cells that regulates gene expression. It involves the use of small RNA molecules to silence or "knock down" specific target genes. In the context of Drosophila research, our RNAi service harnesses this mechanism to selectively suppress gene activity. We design and synthesize short interfering RNAs (siRNAs) that are complementary to the target gene's mRNA. Once introduced into Drosophila cells, these siRNAs trigger the degradation of the target mRNA, effectively reducing the production of the corresponding protein. This precise gene silencing enables us to study gene function, identify therapeutic targets, and uncover biological pathways in Drosophila research.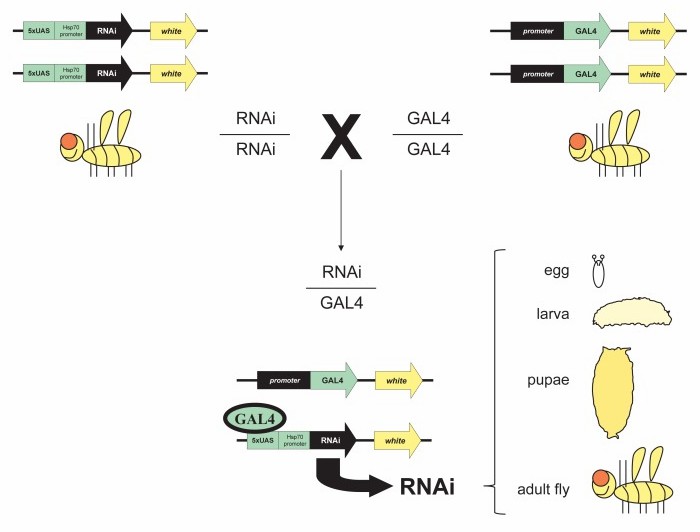 Fig.1 UAS-GAL4 system for gene silencing with RNAi in Drosophila. (Fernández-Ayala D J M., et al. 2014)
Introduction of dsRNA into Drosophila
Introduction of dsRNA (double-stranded RNA) into Drosophila is a widely employed technique in functional genomics to investigate gene function. By inducing RNAi, this method allows for specific gene silencing. siRNAs are generated from the introduced dsRNA, targeting mRNA degradation and reducing protein expression. The process involves the injection of dsRNA into early Drosophila embryos or tissue-specific expression using Gal4/UAS system. This powerful tool enables researchers to analyze the effects of gene knockdown on developmental processes, behavior, and disease models in Drosophila, providing valuable insights into gene function and regulatory networks.
Our Services
As a leading global provider of custom services, CD BioSciences is committed to providing you with high-quality Drosophila RNAi services. Whether you're a seasoned researcher or new to the field, our services are designed to empower your investigations and accelerate your scientific discoveries. With our innovative technology and expertise, we are confident that we can meet each of your specific needs with the following service.
Why Choose Us?
Cutting-edge Technology: Our facility is equipped with the latest tools and technologies, enabling us to perform precise and efficient RNAi experiments.
Expert Team: Our team of experienced scientists and Drosophila researchers are well-versed in RNAi techniques, ensuring the highest quality service and reliable results.
Timely Delivery: We understand the importance of meeting deadlines in research projects. Our efficient workflow ensures timely delivery of results without compromising on quality.
At CD BioSciences, we are dedicated to advancing Drosophila research through our specialized RNAi service. Our team of experts is committed to providing cutting-edge solutions to accelerate your research and help you achieve your scientific goals. With our Drosophila RNAi Service, you gain access to a dedicated team, cutting-edge technology, and a commitment to advancing your research. Please contact us to discuss your project requirements and let us help you unlock the potential of RNAi in Drosophila research.
References
Heigwer F, Port F, Boutros M. RNA interference (RNAi) screening in Drosophila. Genetics, 2018, 208(3): 853-874.
Fernández-Ayala D J M, Jiménez-Gancedo S, Guerra I, et al. Invertebrate models for coenzyme q10 deficiency. Molecular syndromology, 2014, 5(3-4): 170-179.
For research use only. Not intended for any clinical use.
Related Services